Our vision
To create a good quality of life and to be a leader in the field of elderly care.
Our mission
For customers:
To deliver effective care and treatments.
To prioritize our resources towards our patient needs.
To provide our utmost care and service.
To support the increasing number of elderly patients in Thailand.
To dedicate ourselves in becoming a successful international healthcare company
For participants:
To build a healthy relationship with the local communities.
To continuously promote and develop knowledge in all areas to improve staff competency
To assemble a team of medical specialists with interpersonal skill traits.
To accomplish the objectives laid out by the corporate board of directors.
Our value
Our team of medical professionals aim to deliver standardized care and treatment. The nursing team and caregivers are willing to adapt for better service.
With the spirit of medical professionals, we are ready to provide our elderly patients with a 24/7 service.
With trust and respect, we are willingly to treat our patients as part of our family.
With the commitment to our work, we are ready to our patients with close good quality of life and happiness.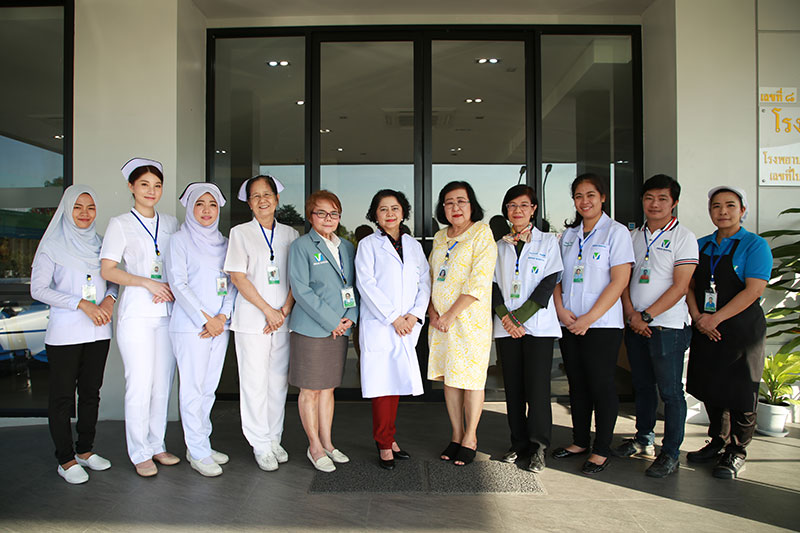 Professional working team
Care and treatments are provided by:
An experienced medical team who will carry out a ward round to check the patient twice daily.
Professional nurses and caregivers.
Friendly staffs who will understand the needs of elderly patients, with a 24-hour Sirin Hospital training program.
A team of professional physiotherapists with a certified training program from Japan.
A team of nutritionists to prepare a healthy diet.
A team of pharmacists for medication arrangements.
Quality assurance  
Serene Hospital has a high-quality management system. The most important function is to ensure a continuous improvement process, including the distribution of knowledge throughout the groups and adopting the best practices. 
In - cooperate with government agencies
Serene Hospital has been chosen to be a moral hospital. Under fair medical and drug fees, it is an organization that conducts business with ethics, without seeking to take advantage of our patients. Serene Hospital has the policy to work closely with the government at the regional level including educational institutions in medicine and nursing as a goal reach out to the elderly patients.
Life in your second home
Serene Hospital aims to support the elderly for a better quality of life. We provide with excellency and privacy. We also create a small community which is also an important part of our program.
We understand all your needs.
We are ready to listen to their needs. When you are with us, we encourage you to participate in the community and take part in our activities. We also give access to other special services, such as workshops, etc. We can also carry out religious activities on important occasions.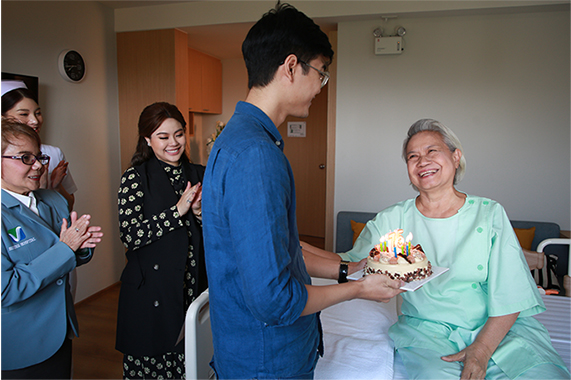 Family and friends
You will have a space for enjoying activities and spend quality time with friends and family during the visits, for this reason, we try to provide personal space in which each area may be different specified for each patients.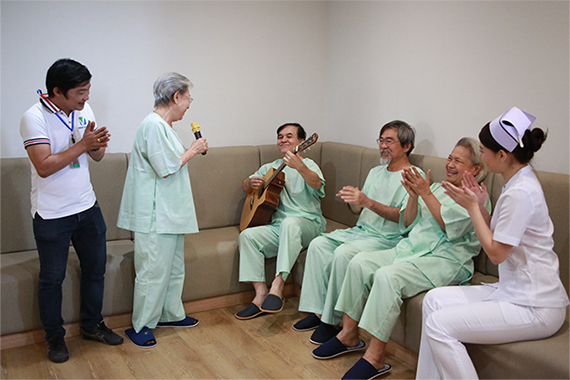 Fulfilling life during the old age
We respect and consider your privacy. At the same time, we can still have fun with enjoyable activities for everyone to have a clear and strong body and mind. We want you to have a happy time the way you want and we also select special food that is useful for you as well. All staff will take care of the elderly and patients like relatives and to look after the elderly.
Safety and convenience
Safety and security are our utmost importance. Therefore, unlike other hospitals, at Serene Hospital, our patients well-being is well taken care of because we have communication systems and security monitoring systems throughout the entire property, both in the public area with breakpoints and the conversation area including in the right size room with medical equipments ready whenever they are needed. Our bathroom facilities are within reach among all patients and visitors.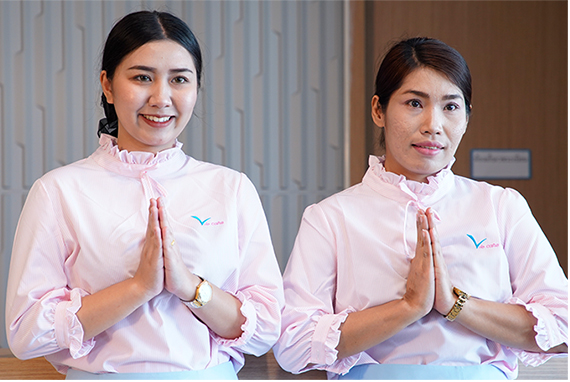 Our service fee
Our fees and expenses are reasonable. You will be informed before using the service well in advanced. If there are any additional charges, the patients will be notified prior to the payment date with the details of accommodation and services, including the payment methods that we offer.
What Serene Hospital offers to the elderly, patients and their families
Care services for elderly and patients (Both short and long term)
Serene Hospital provides an environment that is both safe and comfortable, allowing you to live a quality lif under a secure 24-hour emergency assistance system. We believe that elders and patients should receive good care and support. So that all seniors can spend important moments and enjoy a complete life
Train and support family members or groups interested in caring for the elderly
Serene Hospital believes in allowing everyone to be involved in caring for the elderly in society. That's why we put what we have learned into practice including our experience working for the elderly society. Supporting people so that they can apply to care and help the elderly in the home or community to have a quality of life and happiness.
Support love in the family
Love and compassion are the core values of this program. Each day we have a space for friends and relatives to spend time together to give love and care.